Five Points Farm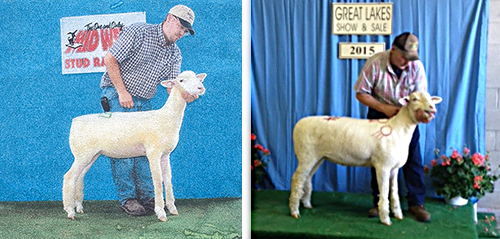 We have produced show winners and can produce your future stock. We are now offering a select group of lambs both rams and ewes for breeding at our farm.
Round bales of hay, $prices at the farm
Buy lamb direct from the farm

Lamb prices 
All prices below are hanging weight
1/4 Lamb $4.50 per Lb.
1/2 Lamb $4.25 per Lb.
Whole Lamb $4.00 per Lb.

Prices do not include cutting and wrapping
You pay for butchering these lambs will yield at least 50 lbs. of meat in most cases for a full lamb
Feeder buck lambs for summer pasture starting at $150
This year will be an exciting year for us we will be having lambs in the fall from the daughter of Bazinga and a few other select ewe. Our folk has grown to over 200 head we look to build a new lambing barn in the spring.
Thanks to all that purchased lambs from us last year.
Call for a quote or email us for a quote.